This is the covered wooden board (linen) framed with ornaments attached....
We tapped the board to spray paint the frame
In blogville....I found a picture of a Pottery Barn bulletin board redo....that was the inspiration for my latest project. Under the table dreaming by StephanieLynn see link at the bottom...not sure how to add it here....she was my inspiration for sure...check out her work....she is most incredible...
My poor husband has been badgered enough....but we ran out of time today before he had to go to work....so....I'll post the picture of the final product later....tomorrow??/ hopefully....
1. remove frame around old cork board. ( we used Lindsay's old high school board that was in her room....she's been married 3 years...)
2. place a layer of board behind the cork for stabilization....mdf or other material
3. cover with fabric....I sprayed an adhesive spray on the board. It took one and a half yards of linen fabric to cover this board that roughly is 35 X 47....If I had it to do over....I would have used drop cloth from Lowes paint dept. 2 for $14 which is cheaper than linen....$8 per yd.....and less hassle. I had ironed the piece perfectly....then my mother in law folded it up and placed it on a shelf.....iron over.... I USED LINEN>>>
4. Cut tags and numbers from Cricket Machine...or purchase at craft store. I used the 4.5" tag from George and Basic Shapes (upper case k) out of craft colored cardstock for the base tag. Then out of white card stock, the smaller tag is 3.5" tag from Christmas Cheer. ( lower case foundation key). The numbers are 2" from the Storybook cartridge, black card stock.
5. The molding is a plastic ...but looks like wood ...molding from the millwork(windows) area of Lowes. I took a picture so you could get the # from it if you want. Any molding will do.
6. Paint with Krylon Carmel Latte ..Walmart $2.97.....
7.Place tags and ornament on with upholstery tacks. 24 per pack from Walmart fabric section $1.27 per pack. Choose from black or gold.
8. Hang and enjoy(Thank your husband for his assistance!)
I am waiting on one piece of molding to be painted....dry....attached with whatever......measure the finished area....divide by 24....for even spacing......anyone good at math?????
Thanks for stopping by.....please leave a comment! You are special!
Finally....It looks ....professionally done?
Change it up.....use photos....but I liked the 25 days of Christmas look...
angel wings from Pier 1
a wooden wreath covered with small pine cones, acorns and leaves
an old angel ornament I made in the 1980's.....
My daughter had red hair....so Raggedy Anne was always a favorite...
Visit here for some more inspiration....you will love your visit with Stephanielynn!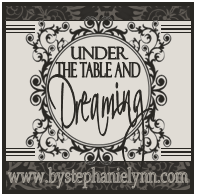 Also linking up with a party about LINEN>>>>>BURLAP>>>>CANVAS>>>TWINE>>>>